Submitted by

J.R. Logan

on Mon, 06/14/2021 - 12:44pm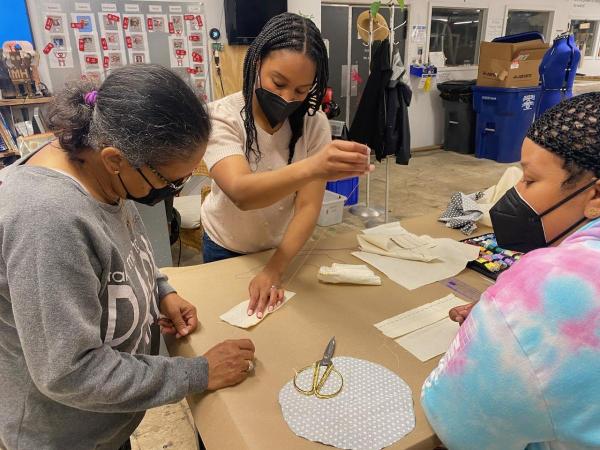 MakeHaven aims to provide people with an empowering space to build skills, foster creativity, and spark entrepreneurship. We are always working to expand the number of people we reach, particularly within communities that have not historically accessed the resources of MakeHaven as often.

When the staff of the New Haven Board of Education reached out to us to ask if we could do a program with parents of Fair Haven students, I knew this was a golden opportunity to introduce this community to MakeHaven. This pilot program would be hybrid, with online introductions to skills followed by  in-person coaching from an instructor at MaekHaven.

We were fortunate to find Ceresa Newsome of Endangered Stitches, a capabible instructor who was able to adapt to the 
various challenges of running a new program.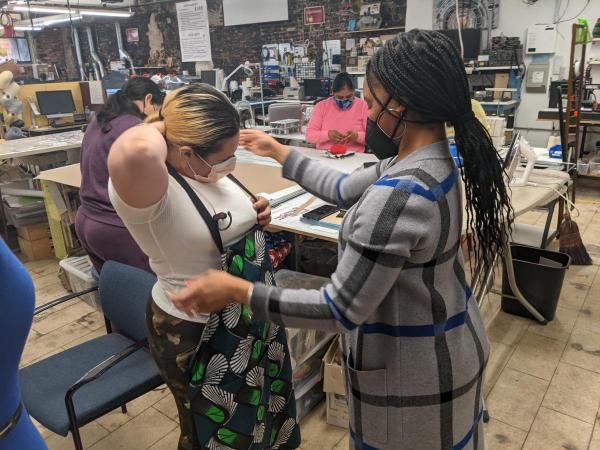 This 8-week course taught 6 parents the practical skills of sewing to be put to use doing mending or to make basic alterations. The course spent approximately two weeks working on each of the 4 topics:
Hand Sewing - Practical technique (buttons and hems) for sewing by hand
 
The Machine - Knowing how to sew with your machine (make a pillow or pouch)
 
Textiles Materials  - Types of materials, how to sew them (make an apron)
 
Putting it together - Hemming and Repairing Cloths (basic alterations)
It was wonderful to see the progress participants made, from struggling with simple hand stitches to making useful and beautiful aprons.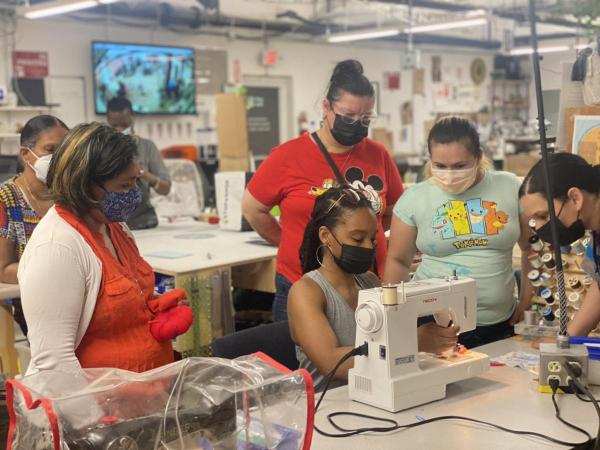 From this pilot program MakeHaven also learned a lot. All of the participants were primarily Spanish-speaking which revealed to us the weak points and barriers non-native speakers have in accessing MakeHaven resources. As a result, we are working on translations of key documents, signage, and translatable closed captioning for instructional videos.

At the end of the program the participants gathered outside and were awarded a certificate of completion. We also took requests from students who wanted to continue learning and working on sewing at home but did not have access to a personal sewing machine. We have funds to repair donated machines. We have acquired two machines, but are looking for four more machines to donate to program graduates.
If you have a used machine you can donate
 to help these students continue their work from home, please let us know at:
https://www.makehaven.org/item-donation-inquiry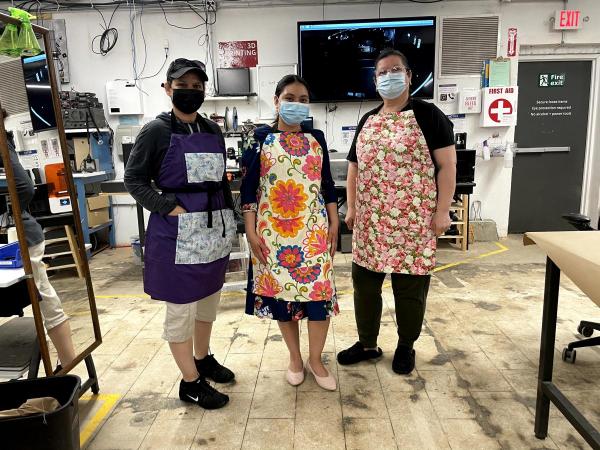 I look forward to hearing about the sewing futures of the program graduates, mending family clothes or selling sewn items. WIth the success of this program we are evaluating how we can replicate and expand to other schools and include other activities such as printmaking or woodworking.