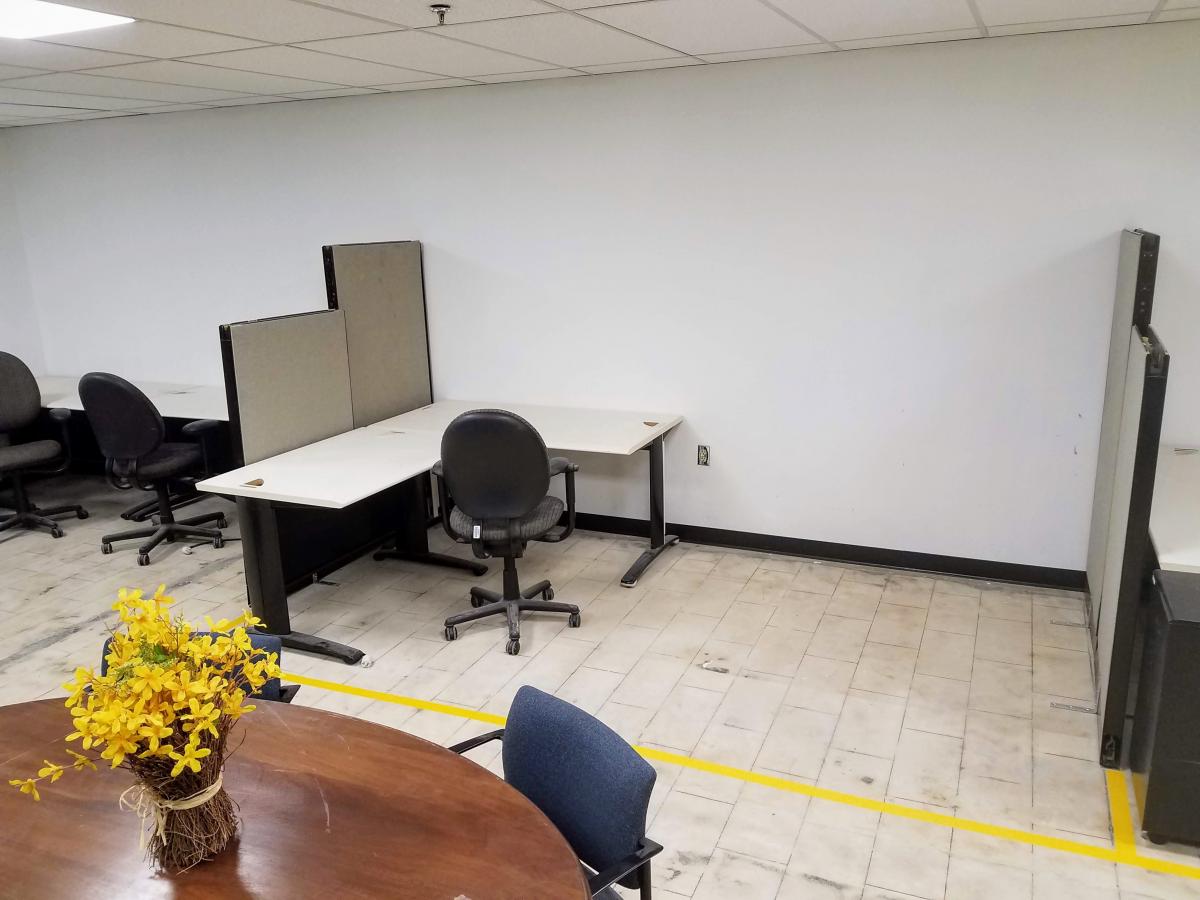 Above: Standard 72 square foot workspace size.
FAQ
Who is this for?
Anyone who is a maker and needs space. Through coworking we hope to incubate startup businesses and serious hobbyists who need space away from home to work on physical things.
What does this come with?
A desk, a chair, a rolling file cabinet. You can choose to use your own furnature if you prefer.
What does the Makerspace offer?
Yes, the rental fee only covers the rental of the workspace. Makerspace membership is $50 per month. All individuals using the desk must also have a membership.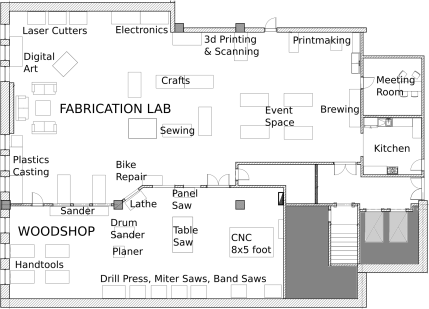 What about Utilities?
We pay utilities. We may disallow activities that consume excessive energy such as mining bitcoins.
Do I also need membership if I have a workspace?
The makerspace offers a wide range of fabrication tools as well as social and educational experiences. Workspace renters can use the makerspace to build prototypes, individual pieces and small runs of products. When production ramps up and large blocks of time are needed on specific tools like our CNC or laser cutter, MakeHaven will make reservation of tools at off peak times available for a reasonable usage fee.
Why is there an application? Can I be rejected?
There is an application because we are being intentional about building a community of people making physical things. We are not accepting software startups unless it is connected to a physical device.
When can I use the workspace?
Anytime. 24/7.
Do I pick my own workspace location?
Yes, we have several spots pre defined, they are availible on a first come first serve basis.
Can I share the workspace?
Yes, as long as the person is a member you can share the workspace. Guests can also visit as long as they are accompanied by a member. See MakeHaven's guest policy for more about this.
Is it secure?
We will have security cameras to deter malicious activity. We will also have a code key to the room so the room can be locked. However the nature of shared environments prevents 100% individualized security. We encourage you to use a locking cabinet for sensitive materials and consider what valuables you leave behind. MakeHaven does not take responsibility for any missing or damaged items.
Can I build a structure in my workspace?
No, in order that the sprinklers give their intended protection no structures can be built. You can however build custom movable furnature such as workbenches and shelves. You can mount things to the wall but are responsible for repair when finished with your space.
What activities can I do?
Only office appropriate activities can happen in the rental area. This includes desktop 3d printer, sewing machines, hand tools and other desktop machines which you would be allowed to use in an office environment without special setup or ventilation. MakeHaven reserves the right to prohibit any activity in order to maintain as safe and pleasant space.
 
I am building software or a business with no physical making component, am I in the best place?
Maybe not, we are aiming to build a maker community of entrepreneurs and enthusiasts building things. There are certainly exceptions to every rule, so there is no harm in applying no matter what your case. However you may look at others in the co-working network for your venture:  District Drive, Grove Coworking, The Regus, and Health Hub.
Can I share my space and have guests?
Yes, guests must be chaperoned and sign the standard MakeHaven guest waiver. If you are sharing a workspace, it must be with another MakeHaven member.
How long is the price going to stay the same?
Your price will remain the same until at least one year after your start date, as long as you maintain continuous occupancy. At the one-year point we will be evaluate the program and be looking to make sure we have priced it appropriately. Our goal it is to make it affordable.
What are my obligations?
Pay your monthly fee on time. Give 30 days written notice when you plan to end your space rental. Keep you space clean and compatible with other working in the room. Return your workspace and area to the condition you got it. 
Any other rules?
All rules of MakeHaven membership apply. This includes prohibiting firearms, explosive devices or hazardous materials on MakeHaven property.
Can I rent multiple workspace?
Not yet, we want to get a sense of demand first. But let us know if you are interested in multiple spaces.
I am an early startup entrepreneur cant afford expense now.
For new or growing small business we have an award you can apply to which grants significantly reduced price and ramps up the fee over 6 months. Apply now.
What does the agreement look like?
You can preview the template that we use to create the agreement that you would sign.
Whats the next step?
We recomend you setup a tour of MakeHaven and let staff know you are intersted in also seeing the workspaces.
When can I start?
Now, it is on a first come first serve basis.
Hit the launch button and apply for a workspace at MakeHaven today!