This program is conducted in partnership with the New Haven School District and participants are signed up through the NHPS system./ Este programa se lleva a cabo en asociación con el distrito escolar de New Haven y es solo por padres de estudiantes en el districo.

This 8 week course teaches parents of New Haven public school students practical skills of sewing that can be used to repair clothing or make basic alterations. The course covers one topic every two weeks. 

Hand Sewing - Practical technique (buttons and hems) for sewing by hand

The Machine - Knowing how to sew with your machine (make a pillow or pouch)

Textiles Materials  - Types of materials, how to sew them (make an apron)

Putting it together - Hemming and Repairing Cloths (basic alterations)

Classes will be held in person at MakeHaven. The course is offered at no cost to parents of students in the after-school programs at Fair Haven through a partnership between the New Haven Board of Education and MakeHaven.  

The course also includes a 2 month membership to access MakeHaven 24/7 (community workshop with sewing area). MakeHaven is located on the bus line at 770 Chapel Street in New Haven. Transportation and parking are included in the program.

Those that complete the program are rewarded with an additional month of MakeHaven membership ($50 value), and may apply to receive a refurbished sewing machine.

 

Este curso de 8 semanas enseña habilidades prácticas de costura que pueden usarse para reparar ropa o hacer modificaciones básicas. El curso cubre un tema cada dos semanas.

Costura a mano: técnica práctica (botones y dobladillos) para coser a mano
La máquina: saber coser con su máquina (hacer una almohada o una bolsa)
Materiales textiles: tipos de materiales, cómo coserlos (hacer un delantal)
Armado: dobladillos y paños reparadores (modificaciones básicas)

Clases será en persona en MakeHaven. El curso se ofrece sin costo a los padres de los estudiantes en los programas después de la escuela en New Haven a través de una asociación entre la Junta de Educación de New Haven y MakeHaven.

Las sesiones en línea se llevarán a cabo por la noche y las sesiones de práctica con el instructor se programarán en un bloque de tiempo según la disponibilidad de los participantes.

El curso también incluye una membresía de 2 meses para acceder a MakeHaven 24/7 (taller comunitario con área de costura). MakeHaven está ubicado en la línea de autobús en 770 Chapel Street en New Haven.

Aquellos que completen el programa son recompensados ​​con un mes adicional de membresía MakeHaven (valor de $ 50) y pueden solicitar recibir una máquina de coser reacondicionada.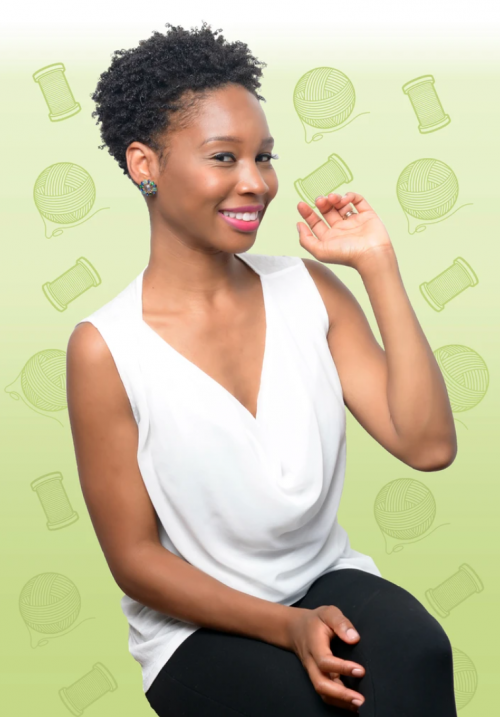 Instructor: Ceresa Newsome, a freelance Design Consultant, Craft Educator, and talented Seamstress, has been sewing for over 20 years. She is Founder of Endangered Stitches, where she shares her love of sewing, and other crafts in an inviting and inclusive way, meeting the student where they are, and guiding them along their stitch journey. She is happy to serve in the role of Sewing Instructor for this special project.
---
Instructora: Ceresa Newsome, consultora de diseño independiente, educadora artesanal y costurera talentosa, lleva más de 20 años cosiendo. Es la fundadora de Endangered Stitches, donde comparte su amor por la costura y otras manualidades de una manera acogedora e inclusiva, conociendo a los estudiantes donde están y guiándolos a lo largo de su viaje de puntadas. Ella está feliz de servir en el papel de Instructora de costura para este proyecto especial.