Updated August 9, 2022 Modifications tracked in "revisions" tab for logged in members.
CURRENT COVID REQUIREMENTS
Face masks are currently reqired for anyone not up-to-date on COVID vaccinations.
Fast masks are optional in the media room and learning lab (excepting workshops). Please close the door and wipe down surfaces after use. 
MakeHaven highly encourages everyone to get vaccinated and boosted to protect our community. Members should attest to thier vaccination status at makehaven.org/vax. 
COVID-19 Policy:
MakeHaven follows community transmission and sets requirements based on that data. In March os 2022, MakeHaven transitioned from the CT COVID Data Portal to using CovidActNow, which is updated more frequently. 

All triggers based on Covid Act Now Data weekly data for Greater New Haven per 100,000.
Covid act now aggregate measure "Community Level" (which includes hospitalization) of Yellow triggers Vaccination Requirement, and Orange triggers everyone mask regardless of the infection rate.
Actions are cumulative and remain in place until the infection number falls below the threshold for lifting that policy.
MakeHaven follows all federal state and local requirements if more strict than our policy.
Threshold numbers and rules subject to change.
Facilitators and Instructors have their request to mask noted on the MakeHaven website. Members interacting individually are expected to be courteous and mask without objection any time it is requested by someone working within 6 feet.
Higher risk activities include large classes and social gatherings. May include other activities based on determination of MakeHaven Safety Officer.
 
If you Get COVID 19
Isolation from MakeHaven
MakeHaven follows CDC Recommendations for isolation.  
COVID testing sites can be found here.
Notification Requirement
If you had been at MakeHaven within 5 days of getting COVID-19, email staff imediately: staff@makehaven.org to inform them of the infection. Please include the dates and times that you were in the space as well as any close contacts you had while in the space.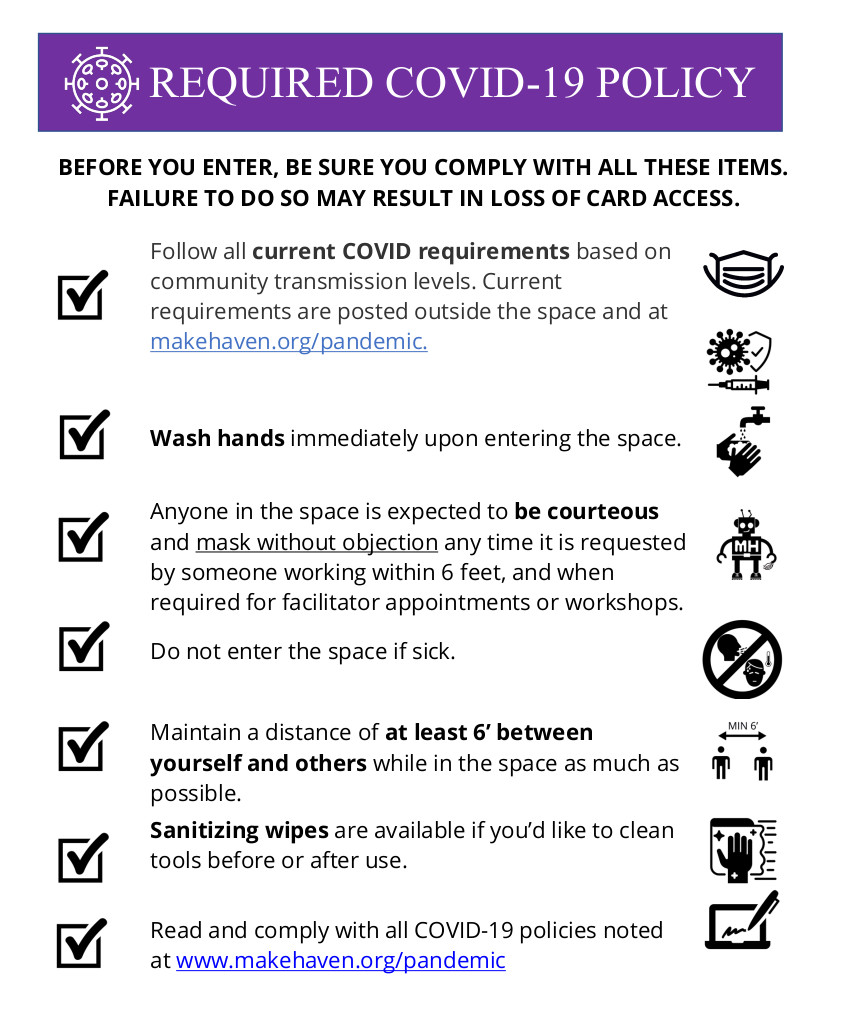 Policies
Each member is responsible for reviewing and compliance with this policy. 
This policy will be updated as the situation evolves. MakeHaven will send an email about significant changes, but you are responsible for checking this document and staying up to date. 
Masks  - When required, wear a mask that covers nose and mouth at all times
Distance - Stay 6 feet apart from others as much as possible and following signage
Don't Enter if sick - including but not limited to a fever and cough, see CDC guidance
Wash your hands - thoroughly and  immediately after entering 
Scan in - Door logs and schedule will be used for contact tracing. Must scan in at door. 
Guest Log - Guests must sign waiver each visit (used for contact tracing). Waivers can be signed online at: makehaven.org/waivers
Wipe down

 - sanitizing wipes are available if you want to wipe down your work area and any tools before and after use.

Increase Ventilation - When working in the woodshop turn on the exhaust fan to outside (ventilation fan is automatic in metal shop)
Positive test - If you test positive for COVID-19 and have been in the space in the prior 5 days, please inform staff at staff@makehaven.org. This will allow us to inform all members in the space at the same time of a possible exposure.
MakeHaven policies are always second to National, State and City regulation and guidance related to Covid-19. If there is an apparent conflict between the two, take the more conservative path.
If you have questions or concerns about the policy, we invite you to share your thoughts here and/or speak with a staff member.