Updated April 22, 2021. Modifications tracked in "revisions" tab for logged in members.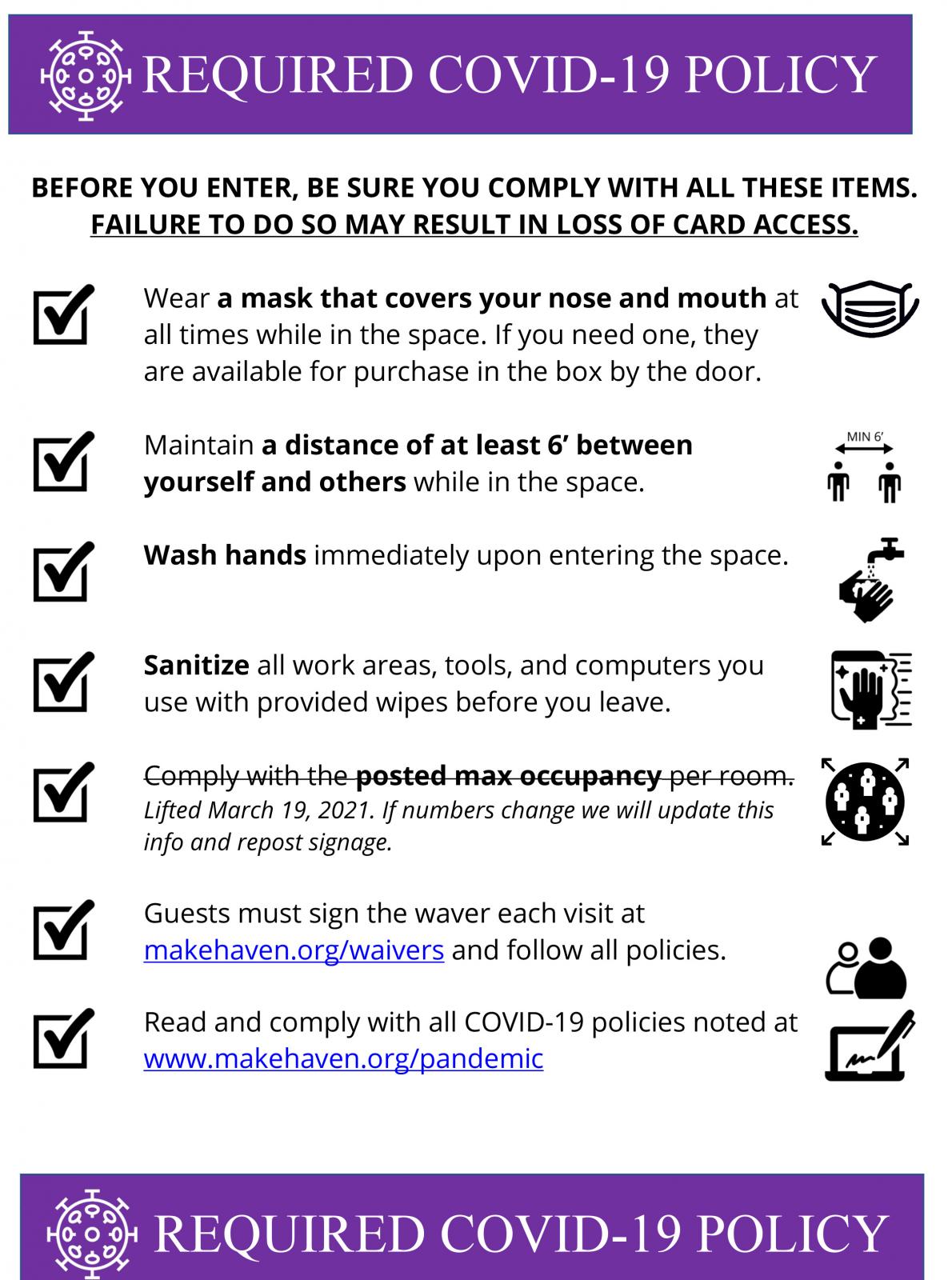 Policies
Each member is responsible for reviewing and compliance with this policy. 
This policy will be updated as the situation evolves. MakeHaven will send an email about significant changes, but you are responsible for checking this document and staying up to date. 
Masks  - Wearing a mask that covers nose and mouth at all times. Only exception: eating room in the back, max 2 people at a time.
Distance - Staying 6 feet apart from others and following signage
Don't Enter iI Sick - including but not limited to a fever and cough, see CDC guidance
Wash your hands - thoroughly and  immediately after entering
Wipe down - your work area and any tools use with disinfectant wipe after use. 
Prep at home - Preparation work that can be done at home should be done at home.
Scan in - Door logs and schedule will be used for contact tracing. Must scan in at door. 
Guest Log - Members are limited to 1 guest who is assisting them with their project. Guests must sign waiver each visit (used for contact tracing). Waivers can be signed online at: makehaven.org/waiver
Eat Outdoors - Food should be consumed outdoors if weather allows (for example back courtyard), if you must eat indoors, this is permitted only in the designated earing room. You must sanitize this surface after eating.
Increase Ventilation - When working in the woodshop turn on the exhaust fan to outside (ventilation fan is automatic in metal shop)
Schedule Badging in Advance - Facilitators are available by appointment only. Make an appointment via this scheduler. Allow at least 4 hours before shift time to guarantee receipt -  Get appointment confirmation from the facilitator.
MakeHaven policies are always second to National, State and City regulation and guidance related to Covid-19. If there is an apparent conflict between the two, take the more conservative path.