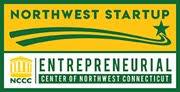 The NCCC Entrepreneurial Center's Vision & Goals
Vision: To serve as a central hub for entrepreneurship in our community, working to empower anyone with a desire to create, from startups focused on global benevolent world domination to micro-companies serving the local community.
Mission: To provide training, resources, space, and support for creators looking to build businesses, giving them the tools they need to execute from inception to completion. We will accomplish our mission with intentionality, working with national, state, and community partners who champion economic development, community engagement, and healthy competition.
Simplified: Develop vibrant and connected communities of entrepreneurs in Northwest CT.